+ Studio news: a note from the Directors
As we come in to the final weeks of the year, we look back on a very busy and successful 2021. Many exciting things have happened since our last update, including the opening of Copy Cat Bar and Restaurant in Elsternwick, completion of Stage 1 major works at All Saints Winery in Rutherglen, and a great new addition to our team.
We are taking a slightly longer break over this Christmas season to give our team a well deserved holiday before a busy 2022. Our studio will be closed from Wednesday 22nd and reopening on the 19th of January. 
We wish you and your loved ones a wonderful festive season!
Nick, Justin and Steve.
Our Technē Team.

Photography | David Cook
+ Copy Cat Bar and Restaurant
Our most recently completed hospitality project, Copy Cat Bar and Restaurant, opened its doors in early November. Located right next door to Classic Cinemas in Elsternwick, the new venue is moody, intimate and sophisticated.
A curvaceous concrete wall defines one side of the restaurant, on the other, a more casual area that's perfect for pre-cinema cocktails and snacks. At the back of the venue is a hidden away, cosy banquette lounge with plush carpet, dark walls and a theatre-style velvet curtain along the wall. The centerpiece of the space are the custom designed, hand-blown pendant lights that float above the bar.
Bookings are available via the Copy Cat website.
Central bar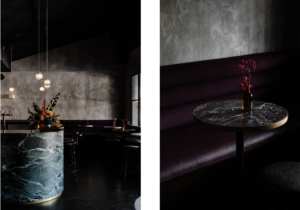 Entrance and bar seating; Banquette seating of the cocktail lounge
High top seating in the restaurant area
+ All Saints Winery: Bonnie
Introducing Bonnie, a casual eatery we have been working on as part of the All Saints Winery redesign in Rutherglen. North-facing door openings connect the interiors to the lake, garden and vineyards beyond. The circular terrace area on the edge of the lake takes in 360-degree views of the beautifully landscaped surroundings.
'The name, Bonnie, was inspired by All Saints Estate's Scottish heritage and our beautiful location (Bonnie means beautiful in Scottish) in Rutherglen which spans 48 hectares of farm, garden and vineyard backing on to the banks of the Murray River.' – All Saints Winery.
Click here to view a virtual fly-through of the venue.
Bonnie is stage 1 of major works currently under construction, set to open December 26th. Bookings are available here.
All Saints Cellar Door and Bonnie entry
Lakeside outdoor seating
Front facade of Bonnie
Visualisations | Technē Architecture + Interior Design
+ Technē in the media: Australian Design Review
Director, Nick Travers, recently wrote an article on regional design for the Australian Design Review. He covers the key learnings of projects in regional settings, and how designing with context in mind is crucial for good design outcomes.
'…an adaptive approach combining unique elements and a destination-centric outlook can transform regional venues into must-visit experiential hot spots.'
Take a look at the article published here.
+ Team Member Profile: Nicola Papaioannou
Introducing our newest team member, Nicola!
Nicola recently joined our team as a Student of Architecture and has since been assisting in documentation for various Commercial and Residential projects. She is currently completing her Bachelor of Design (Architecture) at the University of Melbourne, prior to which she was living abroad in Berlin and as an au pair in Marseille.
We're thrilled to have such a lovely & intelligent addition to our team, and look forward to seeing more of her brilliant project work in the future!
Copyright © 2021 Technē Architecture + Interior Design, All rights reserved.
Our mailing address is:
29-31 Rathdowne Street
Carlton VIC 3053