+ Studio news: a note from the Directors
We have had an incredibly busy and rewarding past few months, working on a range of exciting projects within Melbourne, regional Victoria, New South Wales, Queensland and Western Australia.
The project types have ranged from beautiful rural residences, large scale pubs, experience based hotels, welcoming workplaces, design led and sustainably focused apartment buildings and various others.
Our team has continued to produce quality design outcomes whilst working from home throughout all the challenges of the extended lockdown.
We wish all our clients, colleagues, friends and family well in the lead up to Christmas and as we emerge into greater freedom and normalcy.
Nick, Justin and Steve.
Our Technē Team.

Photography | David Cook
+ Global Professional Services Firm
One of our most exciting workplace projects for a global professional services firm was recently photographed by Tom Blachford. The major fitout works are spread across two floor levels in a Melbourne CBD tower.
The brief was to create a contemporary space where the firm's team could productively work, collaborate and liaise with clients that also doubled as a warm, hospitality-focused home base for regular social engagements.
The social hub
Break out area overlooking the city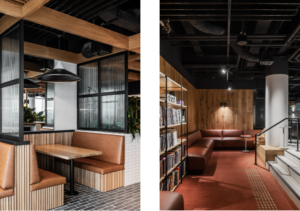 Timber banquette in social area; Library and banquette reading nook
Reception lounge and meeting rooms
+ Technē in the media: 'Authentically Intertwined' by The Local Project
Recently The Local Project toured our Rowena Parade House in Richmond. They have written a great article to accompany the short film produced with Director Nick Travers featured.

"Rowena Parade House is an exploration of the intersections between a heritage home and its modern reinterpretation. Artfully crafted by Technē, the house balances a dynamic dialogue between forms, cohesively merging the two in order to create an authentic, contemporary home." – The Local Project

Take a look at the short film here.
+ Team Member Profile: Sophie McLeod
We are thrilled to announce that Sophie McLeod has moved from contract work to permanent full-time at Technē. Since beginning in our studio, Sophie has assisted with various architectural projects including hospitality, high-end residential, large scale multi-residential and commercial projects.
During lockdown Sophie and her family made the exciting tree change move to regional Victoria were she has been working remotely in the beautiful country side.
We're delighted to have Sophie as a fully fledged team member and we look forward to more of her amazing project work.
+ Team Update: Welcome Dania, Lizzy, Natasha and Kelly
Since our last update we have had the pleasure of welcoming four new faces to our team! Dania, Lizzy & Natasha – Graduates of Architecture and Kelly – Senior Interior Designer! Each of them are incredibly talented and have a wealth of knowledge to bring to our studio. They have settled into our team extremely well over Zoom, and we look forward to them joining our office antics as we're all allowed back in the studio.
L to R: Dania Faruq, Lizzy Wang, Natasha Nardella, Kelly Wong
Copyright © 2021 Technē Architecture + Interior Design, All rights reserved.
Our mailing address is:
29-31 Rathdowne Street
Carlton VIC 3053