+ Studio news: a note from the Directors
A lot of exciting things have been happening since our last update. The Technē team have been performing incredibly well to deliver on a broad variety of new projects including residential, hospitality, commercial, multi-residential and retail precincts. Some of our many highlights include the completion of The Astor Hotel in Albury, which has become somewhat of a local icon in the NSW town, as well as Rowena Parade House in Richmond and The Graham Hotel in Port Melbourne.
We remain busy with a variety of projects on the go and look forward to sharing this news with you in the coming months. Hopefully the current COVID situation in Victoria will stabilise, and we will be back in the studio together very soon.
We wish all our clients, colleagues, friends and family well.
Nick, Justin and Steve.
L – R: Justin Northrop, Nick Travers & Steve McKeag
+ Rowena Parade House
Late last year we saw the completion of our Rowena Parade residence in Richmond. The clients engaged us to craft a contemporary home out of an existing 1900's Edwardian house. Concrete, steel and bagged brick were a subtle nod to the raw, unadorned historic context of the area, and we added the warmth of timber lined ceiling throughout the main living areas, to offset the raw nature of the polished concrete.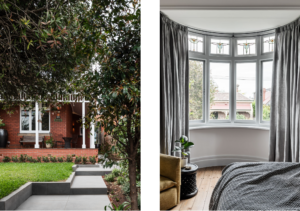 Heritage entrance; Front bedroom, looking out through the bay windows.
Marble, stainless steel, timber and polished concrete floors in the central kitchen space.
Open living and dining area.
The backyard patio and upstairs balconies.
+ The Graham Hotel, Port Melbourne
It has been a long time in the making and we are thrilled to see the completion of The Graham Hotel in Port Melbourne. The structural renovations and interior fit out have come together beautifully – including the light-filled restaurant space, with it's striking steel framed ceiling. This pub and restaurant has quickly become a local favourite and since opening has been constantly buzzing with patrons.
Corner facade on Graham Street.
Main restaurant dining area.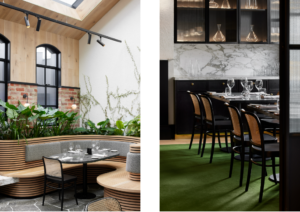 Timber banquette in the restaurant; Downstairs private dining room.
Entrance and main bar.
Upstairs private dining room.
+ Staff Update: Welcome Zaita, Carol-Lee, Jenny and Jared
Since our last update we have had the pleasure of welcoming a few new faces to our team! These four new Technē team members are all brilliant personalities and we look forward to seeing their many talents thrive in our studio.
L – R: Carol-Lee, Bookkeeper; Jared, Graduate of Architecture; Zaita, Senior Project Architect; Jenny, Project Architect.
Copyright © 2020 Technē Architecture + Interior Design, All rights reserved.
Our mailing address is:
29-31 Rathdowne Street
Carlton VIC 3053