+ Studio news: a note from the Directors
While still deep in stage 4 restrictions of the pandemic Technē has managed the complete transition to remote working as well as can be expected. We are optimistic that the state will emerge from these tough restrictions sooner rather than later as the new cases of Coronavirus infections continue to decrease. 
Over the past weeks while working in new ways, the studio and team have performed incredibly well to deliver design services to our clients both old and new for a broad variety of projects from accommodation hotels to pubs to apartments and single residences and we remain grateful that we have been busy with exciting project work.
We wish all our clients, colleagues, friends and family well.
Nick, Justin and Steve.
L – R: Justin Northrop, Steve McKeag & Nick Travers
+ Latest project: Astor Hotel, Albury
The Astor Hotel in Albury is our latest pub project. Being a classic mid-century modern design, we were thrilled to have the chance of revitalising the property which includes public bar, restaurant, beer garden, gaming room, function spaces and motel rooms. The design holds true to the 1960's heritage, and we set out to recreate a Palm Springs-style oasis, boasting fresh vibrant hues and beautiful landscaping throughout.

Construction is well on it's way by Fugen Constructions, and we are looking forward to our next site visit.

The Urban List has written a great article on this project you can read here.
Beer garden visualisations.
Beer garden bar visualisations.
Completed Motel facade.
+ Office Update: Working from home
Since our last update, the entire Techne team has transitioned to working from home, and like the rest of Victoria, we're navigating the challenges that come with that. As always, the team have quickly adapted, with many of them taking to mastering their baking skills, renovating & re-styling parts of their house and soaking up all that extra time with their beloved animals. 
As for project work, Techne hasn't missed a beat staying on top of all of our ongoing projects. Client and team meetings have seamlessly transitioned to online, and we have definitely become world-class 'Zoom-ers'.
Good lines of communication and a positive mindset are getting us through!
CAD work from home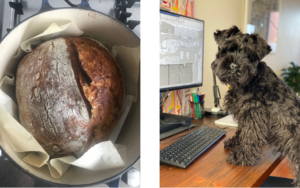 Emma's homemade bread; Matthew's assistant hard at work
Shelley's home office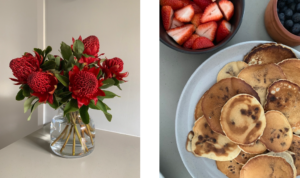 Flowers from Bella's garden … and her homemade goodies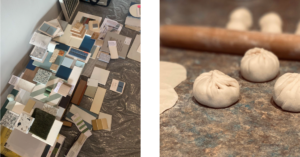 Bianca's home sampling; Rebecca's homemade Pork Bao
+ Sam Sempill: Our Newest Senior Associate
We are very proud to announce the promotion of Sam Sempill to Senior Associate. Her consistent commitment and professionalism towards every project undertaken at Techne has proven her to be a key member of the leadership team. With 15 years of experience behind her and expert skills across many different sectors, we are looking forward to a very successful future with Sam.
As mentioned in Architecture and Design "Sam is a great fit with our culture, design ethos and the future direction of Technē. Her commitment in these unprecedented times as well as her energy and creative design excellence are assets which have been invaluable to us." – Steve McKeag, Director.
Sam Sempill – Senior Associate
Copyright © 2020 Technē Architecture + Interior Design, All rights reserved.
Our mailing address is:
29-31 Rathdowne Street
Carlton VIC 3053