+ Studio news: a note from the Directors
It has been quite a while since our last newsletter and a lot has happened…We are navigating our way through the COVID-19 pandemic and despite the difficulties, uncertainties and changed ways of doing business, all in all we are doing well with our fantastic team, clients and partners. To our surprise beyond the initial shock of the lockdown several weeks ago, we have found many positives in focussing our attentions on adapting and facing the challenges and fortunately we have kept ourselves busy with a broad base of exciting project work from pubs, to hotels, to apartments, to single residences and even a café and a rooftop bar…. we are very grateful.

Below is a snapshot of some current residential projects and an exciting major winery refurbishment that has just hit the 'drawing board.'

Hope you are keeping well too and enjoy…

Nick, Justin and Steve.
L – R: Justin Northrop, Steve McKeag & Nick Travers
+ Latest project: Prahran House
The brief was to design a house where art came first and living came second.
Sitting behind an industrial facade is a striking brutalist residence. An escape from the streetscape, our design provides a nod to the style of the original building and retention of the former textile factory shell.
The new building is comprised of two key volumes/forms, the first in off-form concrete and the second metal clad. A glass 'knuckle' links the two elements with a dramatic sculptural stair.
The industrial fabric of the existing building has been preserved while incorporating a clean, contemporary design set against a vibrant urban backdrop.
"After years of looking for a more traditional home, we realised what we really wanted was a warehouse with this scale to showcase our passion for art and indulge in our shared desire to live in an industrial space. The brief was to design a home where art came first and living came second.
Both of us love the juxtaposition of the warehouse's organic brick walls, the concrete and steel construction and our contemporary art. There is a great relationship that seems to live amongst these elements and we feel it every time we walk in the door." – Kallie Blauhorn.
Full article in the Australian Finical Review – Life&Leisure Magazine. 
Gallery space: artworks | Tamara Dean, Cosmos 2016, Pigment print 150×200.
Dale Frank, Black Soil Warrego Highway (Esk Turnoff) West Morton Anglican Boys College Entrance Road Gates Bus Shelter 3:15pm, 2003
Living room: artworks | Chen Ping, Lonley Cloud Gordon River, Oil on canvas 120×150. Kate Bergin,The Venetian Room 2016, Oil on camvas 170×200. Vicki Cullinan, Stars in the Night Sky, Acrylic on Canvas 167×243.
+ On site: Tintern House
It has been a long time in the making and we are thrilled to see the construction program of major renovations and additions to this residence. We are undertaking a contemporary and sympathetic project with builders Beaton Projects.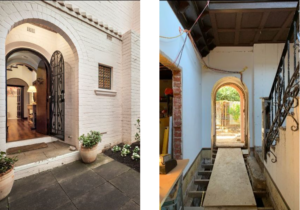 Front door; Entry hall.
Original house by Rodney Alsop. (The architect's own residence)
Front of house. Frame work for for a concrete vaulted outdoor undercover dining space
+ On site: Rowena House
Currently under construction with builders Loc Build our design creates a seamless flow between internal and external spaces while intertwining contemporary design with a classic Edwardian house.
Courtyard sketch design.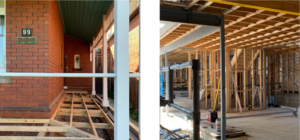 Front verandah; Main living + kitchen.
Two level additions to rear.
+ Upcoming project: All Saints Estate
We have been engaged to re-imagine the All Saints Estate hospitality offering within the distinctive heritage property. A 4th generation family owned and operated winery by siblings Eliza, Angela and Nicholas Brown is located in the Rutherglen wine region, North East Victoria. The major redevelopment will include hatted chef Simon Arkless' fine dining restaurant, cellar door, cafe and providore.

Also under their portfolio: St Leonards Vineyard and Mount Ophir Estate.

Keep an eye out for this one.
Original main building.
View from proposed new restaurant pavilion.
Copyright © 2020 Technē Architecture + Interior Design, All rights reserved.
Our mailing address is:
29-31 Rathdowne Street
Carlton VIC 3053