+ Studio news: a note from the Directors
As we emerge from many of the restrictions of the pandemic we're now enjoying life back in the studio, re-activating the numerous cultural practices that we enjoy with our team, collaborators + clients.
2022 is shaping up as a very busy and productive year with several projects nearing completion on site such as the Grand Hotel in Portarlington and All Saints Estate Winery in Wahgunyah.
We have had some key promotions announced for Gabriella Gulacsi, Sam Sempill and Sebnem MacDonald, which set Technē up for continuing growth and advancing the practice.
We wish all our clients, colleagues, friends and family well.
Nick, Justin & Steve. 
(L-R) Justin Northrop, Nick Travers, Steve McKeag
+ Project Update: Tippy-Tay
Since our last update, Tippy-Tay in Garden State Hotel has opened it's doors. The interiors of Tippy-Tay are a fun and eclectic ensemble of colour, pattern and nostalgic Italian curio. Along with Eleisha Grey Design, we aimed to create an immersive interior, transporting patrons back to a sun-filled day on the Mediterranean. The negroni button at each table has been a hit!
Restaurant entry within Garden State Hotel
Central restaurant area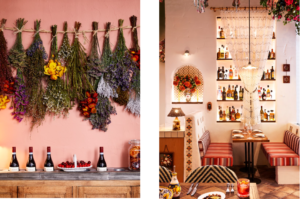 Detail shot of bar styling; Banquette seating
+ Technē event: Collectivity Talks presented by Communications Collective
On the 22nd of March Technē hosted a Collectivity Talks panel discussion in our Studio, presented by Communications Collective. It was a wonderfully inspiring and successful event – Panelists included Architect & Director of Technē, Nick Travers; Artist, Naomi Troski and Art Advisor, Sophie Ullin. The discussion was moderated by the amazing Alice Blackwood, Editor of InDesign Magazine.
View the full gallery of the event here.
+ Team Announcements: The promotions of Gabriella Gulacsi, Sam Sempill & Sebnem MacDonald
We are delighted to announce the promotions of three of our leadership team, Sam, Gabriella & Sebnem (L-R)

Sam Sempill – Associate Director
Sam Sempill is a multi-disciplinary designer with a broad range of project experience. With over 15 years in the industry and 4 years at Technē, Sempill has extensive practice management, project management, and project delivery experience. Her project portfolio spans a variety of sectors, from hospitality and wellness to hotels and high-end residential. These include projects like Rowena Parade House, All Saints Estate Winery and Portarlington Grand Hotel's boutique accommodation, along with of the on-going development of the Core Plus wellness studios.

Gabriella Gulacsi – Associate Director
With over 20 years of experience and exposure in both domestic and international markets, Gabriella Gulacsi leads the Technē Interior Design team as Associate Director. Gulacsi joined Technē in 2015, quickly applying her own passion for design and creativity with Technē's forward thinking strategy. Managing commercial projects, nurturing client relations while successfully overseeing the project lifecycle for industry leaders and blue-chip clients, places Gulacsi and the team she leads for an exciting and rewarding future.

Sebnem MacDonald – Associate
Sebnem MacDonald's 20 years professional experience spans the UK, Turkey, and Australia. Her unique international professional background covers a highly diverse field – from furniture design to urban design; and from heritage buildings to concept design of high-rise mixed-use developments. For the past 8 years, she has worked as a project leader in some of the most prestigious multi-residential, hotel and large-scale mixed-use developments in Melbourne and Perth. Her portfolio, since joining Technē in 2019, has expanded to include Fourdrinier House, Sheahan Townhouses, and a major hotel-retail-hospitality project in St Kilda.

Words by Communications Collective.
Copyright © 2021 Technē Architecture + Interior Design, All rights reserved.
Our mailing address is:
29-31 Rathdowne Street
Carlton VIC 3053