Find the original version of this article here on Australian Financial Review.
How this architect uses AI for design ideas
Written by Ingrid Fuary-Wagner
When Melbourne architect Nick Travers started experimenting with artificial intelligence late last year, he ended up deep in a vortex of dystopian, Blade Runner-eque streetscapes.
It wasn't ChatGPT that had piqued his interest, but rather an AI image-generating program called Midjourney.
Nick Travers, of Techne Architects, is experimenting with AI images generated by the Midjourney chatbot. 
Midjourney is an AI chatbot that converts text prompts into images, and was developed by a San Francisco-based independent research lab of the same name. The chatbot is only available through online community platform Discord.
"Initially, we just downloaded the free version and typed in some prompts. I would type in words like, 'large city, cyber punk, dystopia, stormy night', maybe something about the lighting," Travers says.
"And then we got these quite incredible images coming back. They are unique images that have never existed before," he says.
(Midjourney, along with other AI art tools like Stable Diffusion, was earlier this year the target of a lawsuit by a group of artists claiming copyright infringement. During a hearing in San Francisco in July, the judge said he was inclined to dismiss most of the lawsuit, but has allowed the artists to resubmit their complaint with more evidence).
While Nick and his team at architecture firm Technē Architecture + Interior Design started dabbling with the program for fun, they have now started to use Midjourney to help with actual design projects.
At the start of each new project, the team uses keywords to get creative with ideas.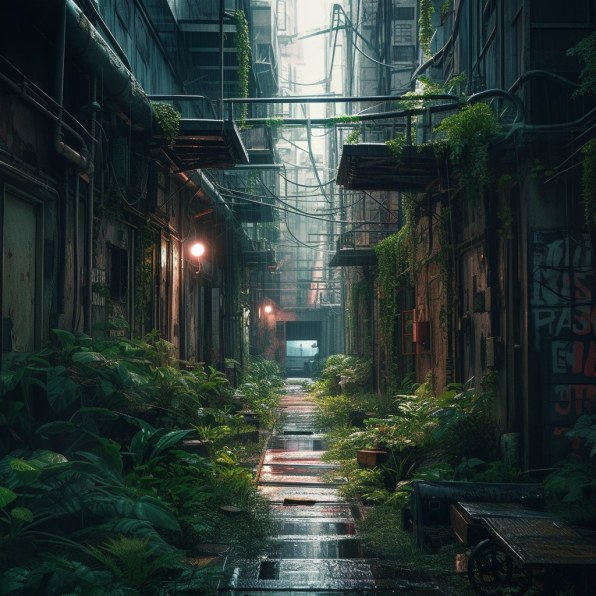 One of the dystopian 'Blade Runner' style images Nick Travers created using Midjourney.  Nick Travers
Previously they would have gone to Pinterest or used Google to find images that best represented these "big thought bubbles". But they would be singular images representing different aspects of the one project.
Now, Techne uses Midjourney to come up with one original image that combines all of those different aspects.
"It's kind of a creative endeavour, to get the mind ticking over. We are trying to be in front of it, so as it develops we find more of the commercial applications for it," Travers says.
"We aren't looking for Midjourney to design the project for us," he adds. "But we are always trying to put narrative and concept into our work, and that's where Midjourney helps a bit, to help visualise a narrative."
They then pair the image with a vision statement, to "bring the words to life", and add it to a design document.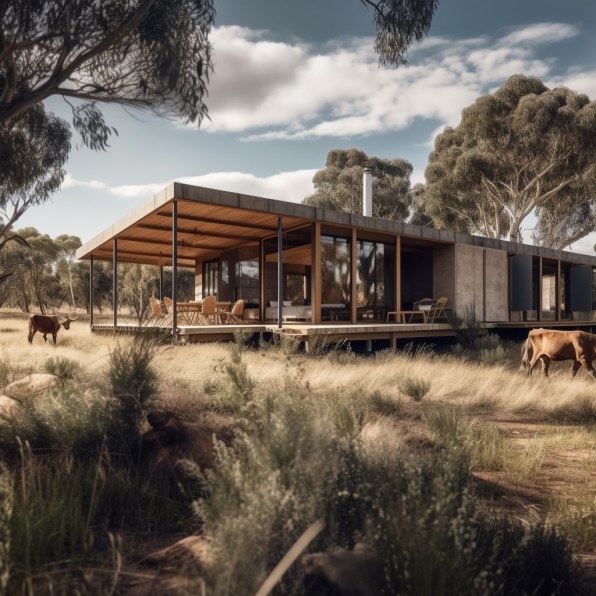 Nick Travers, of Techne Architects, generated this image of a farmhouse using Midjourney. Nick Travers
"In many ways, the Midjourney output hasn't yet had a major or direct influence on our creative output. But it has been illuminating to appreciate the potential, both in terms of the increasing sophistication in the AI itself and our own aptitude in utilising the technology," Travers says.
"It has also helped us to avoid alternatively sourcing another architectural image from the internet that helps explain a concept or a project attribute."
One example is the conceptualisation of a new project of Techne's – a residence on a cattle farm in rural Victoria near Albury.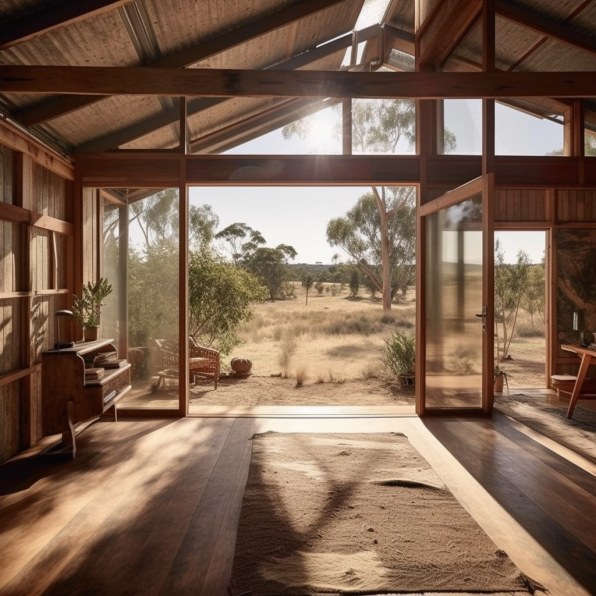 To create this image using Midjourney, Travers used the words: 'rural homestead interior modern Australian architectural design within a scenic cattle station with bright summer light'. 
The team typed in: "Rural homestead interior modern Australian architectural design within a scenic cattle station with bright summer light" and Midjourney then produced the above images.
Techne also uses a new artificial intelligence add-on to image-making program Photoshop, which allows users to manipulate images. For example, once an architect has created a render of a building they can then add objects such as trees, cars and people to it to make it look more realistic.
Historically, they would have had to tap into a library of images and then copy and paste them in.
"Now, with this Photoshop AI, you can highlight an area on the image and say, basically, 'put plants here' and describe the plant, or 'put a car here'," Travers says.
"Or we might have a flat roof on the design, and now you can say 'change the roof to be a gabled roof or a contemporary roof' or 'change the windows'."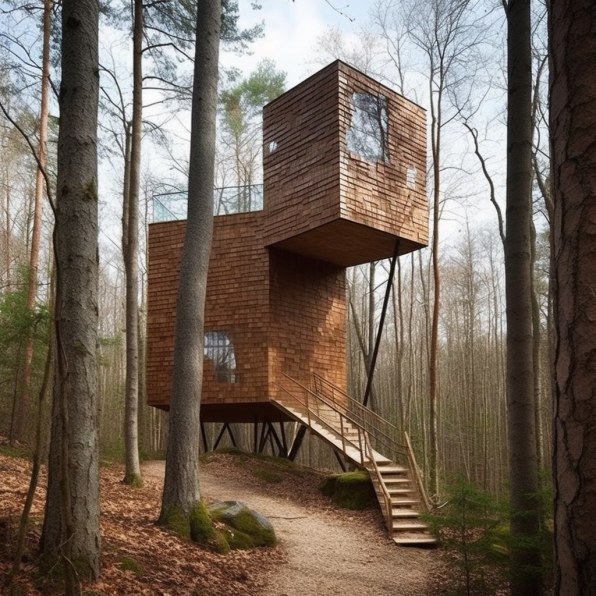 Midjourney created this image when Travers typed in the keywords: 'A Scandinavian cabin in the woods by Alvar Aalto and Frank Gehry".  
"My team says they are using that AI-embedded capability in Photoshop on a daily basis, and that's only happened for us in the last month. That's sped up image production for us quite a lot."
He says it saves the team time on the "boring parts" of the process.
"It's not that you spend less time overall, but that you can spend more time on the quality aspect on the production," Travers says.